← Go back Home
Space Drill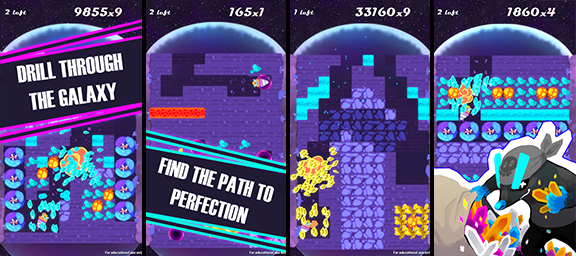 Space drill is a mobile puzzle game where a space mole has to drill planets to be rich. You have to control your space drill to dig whole planets to retrieve all the precious stones. The player will have to use his or her thinking, dexterity and accuracy to score high scores and cross levels.
This is a school project with the collaboration of Ohbibi

Link to the App Store


---
My role
Game designer
I created the gameplay with the other game designers in the team. It was the first time that we designed for mobile and the theme of the game was imposed by Ohbibi
We needed to make a puzzle game with about 50 hours of gameplay. We quickly took the idea of pachinko, a japanese game that mixes skill and precision.
We added the lore of a space pirate and the idea of drilling entire planets to create the final gameplay of Space drill.
Level designer
We did the fifty levels by hand on Unity. We had to test them all one by one to see if levels were passable by the player but also challenging enough for him to see a progression of the difficulty.

Community Managmenet
I took care of communication around the game and community management with a facebook page and a twitter. Indeed, the game had to be downloaded so that we could collect data on players' habits. In the end we had 79 like on Facebook and 33 followers on twitter (10 campaign days) for a total of 250 downloads on the app store.